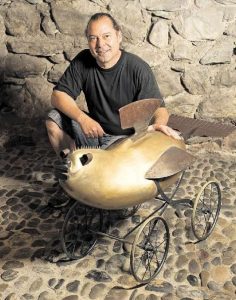 Thomas Joerger – Sculptures, Pictures & Objects –
Is at home in Switzerland. His studio "tom-art" can be found there.
As a child and a young man, he observed and assisted his father (architect) in numerous and varied design and renovation projects. Working on old homes, he learned to work with stone, wood, iron   and a variety of other building materials.  His slogan was "learning by doing," and my life was completely filled with artistic quest.
The painter Silke Glättli and his teacher Wilhelm Jaeger (artist) at the Zurich University of the Arts encouraged him to work freely and autodidactically, which he still does today with body and soul.
Feel free to look at the page of Thomas Joerger …
If you want to buy a sculpture from THOMAS JOERGER, please … Mail to "art for africa".
VITA
1962        borne in Zurich, Switzerland
1978-81 commercial apprenticeship (KVZ)
1983       in Southern France first stonework out of sandstone and shelly limestone
1983-84  travelling one year through South America with a sketch-book
1984-87  college of arts and crafts Zurich (coursework: "Science of Colors," Joh. Itten).
1987       alone in Southern France, time for uninterrupted work on sculptures and paintings
1988      in London, I studied numerous museums and galleries with my sketch-book
1988-90 RTW-travelling; painting a book with 100 travel-paintings
1996      first large sculptures
2003-   exhibitions in Switzerland and abroad
2013-    board member of Artischock (artist association)
2015      Palm Art Award, Special Prize Sculptures
2016     Co-Curator KUNST WASSBERG (sculptures exhibition) and member of  a
culture working groupe from the community of Erlenbach (Kulturtreff Erlenbach)
Sales in collections: Switzerland, France, Germany, Italy and USA