Ruth Schleeh, ruth-schleeh.com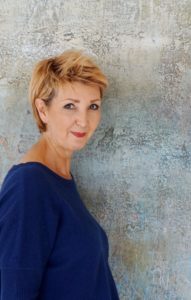 Ruth Schleeh has been working as a freelance artist for more than 25 years. 1986 marked the beginning of her artistic work. At that time she combined her several years in Belgium with her first artistic studies in coal and watercolour, followed by studies and experiments in various techniques and materials with national and international lecturers.
Her mostly large-format, unmistakable works are a composition of surfaces, colours and lines that often draw the viewer into the picture and inspire them to think.
About her motivation to paint, she says herself:
"I work abstractly, mostly in large formats. I use a mix of materials. In my works I work with many layers. As a result, the works not only gain depth, but also lose apparent harmony. Large-area forms stand in contrast to small-scale lines. The expression of oppositeness is important. Harmonious and yet disharmonious.
The dynamics inherent in the works are sometimes created by the addition of individual strong colour elements, but always also by the varying application of colour, which is sometimes wiping, sometimes scratching, sometimes drop-shaped. "There are ups and downs in life and not everything is smooth. These are also my impulses".
If you like one of the works in Ruth Schleeh's gallery below, please send a message to mail∂art-for-africa.com">ART FOR AFRICA.
Excerpt of exhibitions and fairs
2018
ARTe Sindelfingen | Germany
2017
AAF Brussels I Belgium
AAF Milan | Italy
ARTe Art Fai | Stuttgart | Germany
2016
ARTe Art Fair | Stuttgart | Germany
Kunstraum Gallery | Vienna | Austria | GM
SIX PACK | Thyssen Krupp | Duisburg | Germany | GM
2015
Art Innsbruck Art Fair | Innsbruck | Austria
Art'pul Art Fair | Pulheim | Germany
art.enjoy Gallery | Hochheim / Main | GM
Berlin List Art Fair | Berlin | Germany
Art International Art Fair| Zurich | Switzerland