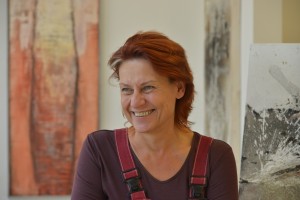 Gabriele Musebrink described her art for a trade show in Hong Kong [Asia Contemporary Art Show Hong Kong 2015]:
Being human and painting are one

Expression of transformation, morphology into painting, birth and death – my 'intuitive process painting' is a reflection of natural life processes and a search for the materials to be used is like a technique in the process of painting. My use of natural materials with their own life: pigments, marble, flour, earth, oils, dammar, bone glues, waxes, mud limes, quark and others. Synthetics and finished colors are almost not used.

For more than 30 years now, I have developed my own language as an artistic form of expression, founded in informal art, and yet beyond. Object-like image holograms arise.
Visit this extraordinary artist go to her homepage: www.gabriele-musebrink.de
If you want to purchase a work by Gabriele Musebrink, please mail "art-for-africa".
Her words to her image for "art for africa":
"From the now, no hesitation, at the moment, only with that, no correcting, being let and let live is found with every trace in the picture (in life)."