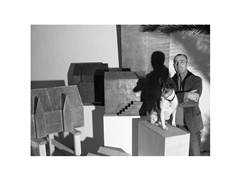 V I T A
Born in Biberach / Riss
1981-1985 studied at the State Academy of Fine Arts, Karlsruhe with Professor Lüpertz, von Hancke and Antes
1983 Oberschw. Art Award "Bild-Botschaft-Bild", Gerhard-Fugel-Kunstpreis
1985 Masterclass with Prof. Antes
1986 Lehrauftrag Staatsl. Academy of Fine Arts, Karlsruhe
1989 scholarship of the art edition Waldherr and Donnersbergkreis
1990 Franz-Joseph-Spiegler-Prize Sommeratelier Castle Mochental
1991 Cité International des Arts, Paris, scholarship Art Foundation BW
1993 Scholarship of the German-French Cultural Council, Paris
1996 Appointed professor at Burg Giebichenstein, University of Art and Design in Halle / Saale
2000 – 2009 Atelier in Rome, San Lorenzoseit
2008 Member of the Deutscher Künstlerbund
Further information and presentation of the art on the homepage of  Hermann Weber.
If you would like to acquire a picture from Prof. Hermann Weber, please… Mail to "art for africa".
Exhibitions – Excerpt from recent years
2009
Universidad convento Sor Juana, Mexiko Stadt, "Yo, la peor de todas"
"Change – Die Hoffnung stirbt zuletzt", Galerie Schloss Mochental
"Que c'est beau, et quand l'illussion", Galerie GNG, Paris
GALERIE.LEO.COPPI, Berlin (mit Olaf Nehmzow)
2010
Un pintor alemán contemporáneo recrea a Sor Juana, Centro Cultural Santo Domingo, Instituto Nacional de Antropologia e Historia, Oaxaca de Juárez, Mexiko
HERZKAMMER, ( mit Gustav Kluge), Galerie Michael Schmalfuss, Marburg
DIX ANS, Galerie GNG, Paris
2011
"REGARDEZ, Dix Ans – Hermann Weber", Galerie GNG, Gilles Naudin, Paris (Kat.)
"SOR JUANA INÉZ DE LA CRUZ – ICH, DIE SCHLECHTETSTE VON ALLEN", Kloster Heiligkreuztal (Kat.)
2012
Offenes Atelier, Margrit Gass, Art projects, Berg
2013
Galerie Ewald Schrade, Karlsruhe
2014
Galerie Schloss Mochental
Sammlung Hurrle Durbach, Museum für Aktuelle Kunst (with Ute Hörner)
Dieser Beitrag ist auch verfügbar auf: French