We are very excited that you are with us as the first African representative. Godwin Adjei Sowah has always had the wish to be an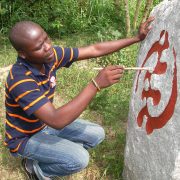 artist. After having finished highschool, he attended the Ghanatta College of Arts from 1995 to 1998. He graduated receiving an award of the year's best artist. To be able to make a living, he opened a small gallery-shop in Accra in order to present his own paintings, meet other artists, and offer painting courses. Passing his skills to kids, teens or adults is a big desire of his. The revenues of paintings and the workshops enable him to supply his family of three children with everything they need.
In his painting, Godwin Adjei Sowah relates to typical African motives. People in their natural surroundings and everyday chores form the contents of his colourful and vivid pieces of art. He is directly inspired by his environment or by internal images he tries to visualise. His medium is predominantly acrylic colour applied to canvas with painting knives and brushes. You will be transferred into African life immediately when you see his paintings.
Dieser Beitrag ist auch verfügbar auf: German
https://art-for-africa.de/wp-content/uploads/2016/06/Hill-View-101-x-76-cm.jpg
784
1050
Birgit Cornelia Schryvers
https://art-for-africa.de/wp-content/uploads/2014/10/Logo-art-for-Afrika-119_121.jpg
Birgit Cornelia Schryvers
2016-12-09 15:21:49
2016-12-09 15:21:49
welcome Adjei!